Smart LED Backpack
Regular price
Sale price
$149.99
---
If you order within
Arrives by
Express yourself on the go by making a statement
Made of premium quality braided material, which makes it more durable and sturdier than normal cables but also flexible tangle free, withstand a variety of everyday connection needs and long-term use.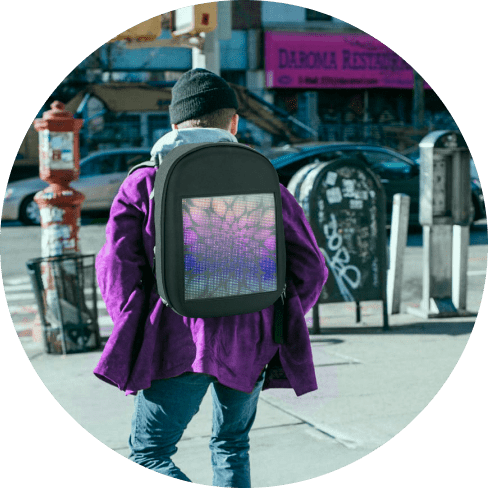 Power up with one app
No more spending dollar after dollar on customized merchandise. One easy purchase of this message-displaying backpack, and you change up your backpack's screen to reflect your thoughts anytime, anywhere. All you need to do is to connect you backpack to a power bank, download the "LED Space" app, available for iOS and Android.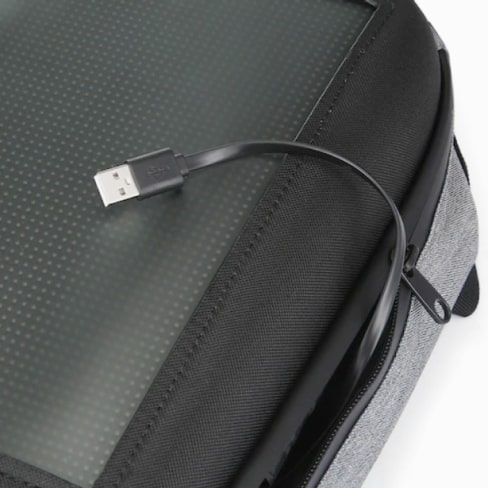 Text, images, and more
Don't be limited by printed or embossed merchandise. Like an artist's sketchpad or Twitter tweet come to life, the LED screen on this suave backpack allows you to shout out to the world whatever you want. From text to emojis and animations, the sky's the limit.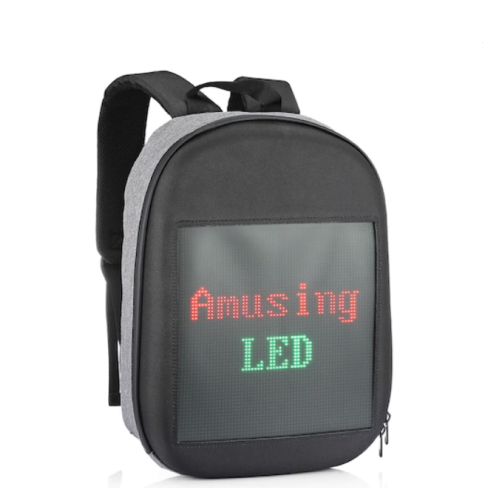 Easy connection
Here are few steps how to start using LED Backpack: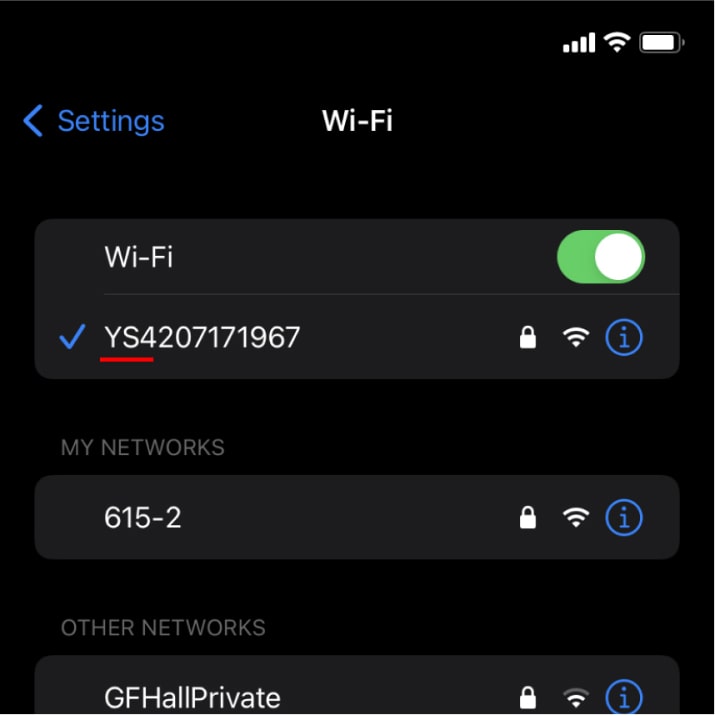 Connect to appropriate network
Download the "LED Space" app. Open Wi-Fi Settings on your phone. Find the network that starts with YS and connect to it (password: 12345678)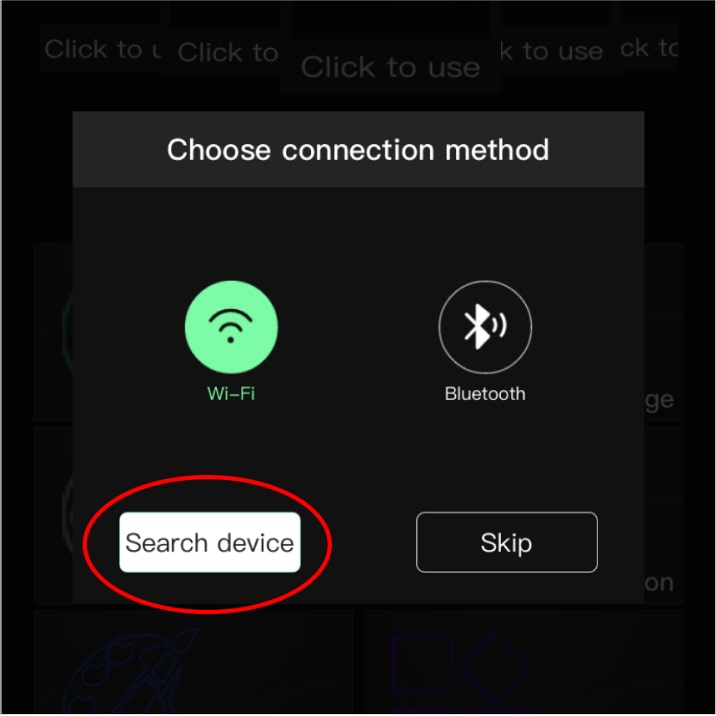 Choose right connection method
Open the app and choose Wi-Fi connection method, then tap "Search Device". Allow the app to use your location and that's it!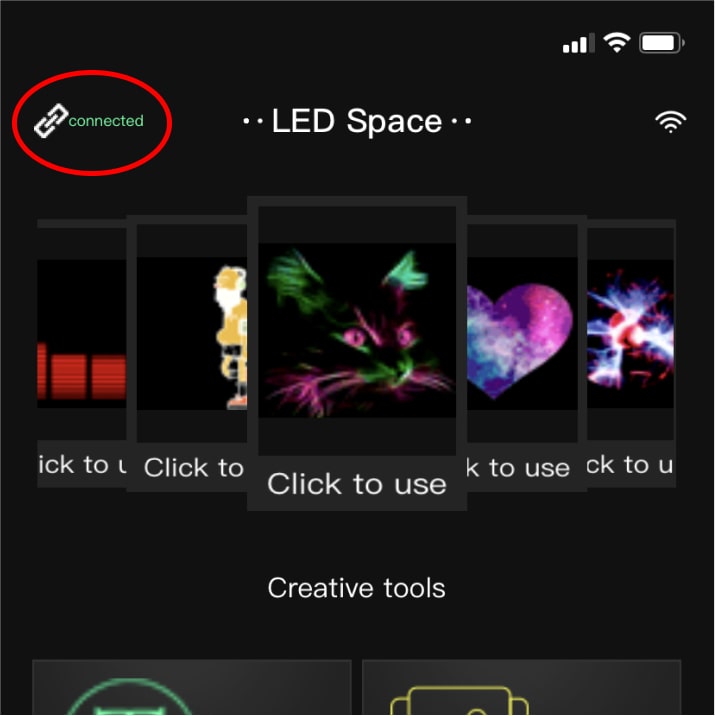 Enjoy the options
Make sure you connected to the backpack by the green word "Connected" in the left corner. Now you can enjoy all the options of the LED Backpack!
Crafted for durability
After all, this is still a backpack. Constructed of EVA elastomeric polymer, this comfy accessory shines with its 64 x 64 full-color bitmap screen for professing your love for a crush, displaying a daily smiley face, or even for advertising a business, service, or event! One big interior pocket lets you store a laptop, notebooks, tablets, and more for classes or library visits, and two standard backpack straps let you carry with ease. The Smart LED Backpack size: 17.3 x 13.8 x 5.1 inches.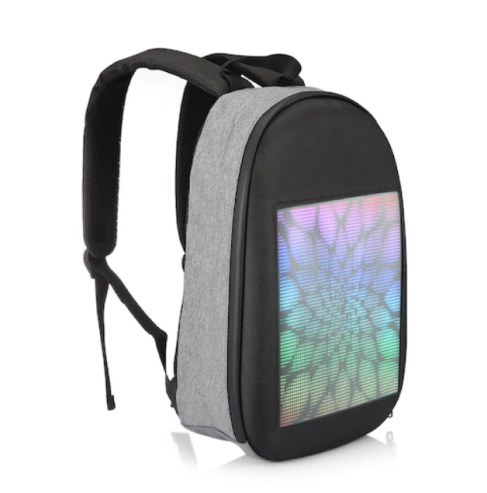 An expressive gift for anyone
Got a creative person in mind? Or someone with a brain for marketing? Gift a nephew, family friend, or college-bound intellectual in your life with this truly one-of-a-kind, expressive Smart LED Backpack they can take to work, class, or study sessions..
Can't speak on the durability of the bag yet. Only been in use for a week. But seems like a well built bag that will last the school year. Display is very cool and my son loves being able to change the screen. All his friends now ask their parents to buy them the same backpack lol. So now my son is a school superstar.

thanks to the store, I will order more. quality is super

This made me cool with my nephew. A cool backpack that gives you the functions you are use to: being easy to carry, room for the items you need for the day and made out of a good material. The extra bonus, however, is the ability to sync through the app to make it part of your down-time. Love this feature, and it's really easy to set up. All you have to do is follow the instructions, and you'll have it up and running in no time.

I absolutely love the bookbag. It's awesome and has so many more features and options for the LED display than the video and pictures let on. The seller was very professional and was always quick to respond to all my emails i would definitely buy from them again. I bought this for my 16 year old and he loves it, he changes what it says or does daily.Unique and very tech cool.

arrived in good condition

The backpack is absolutely amazing the lights are everything we imagined. And it is also waterproof. Now it is raining every day and I don't worry that it will broke. I am very creativ person and for me this backpack is just a mieacle. I may draw everything I want and express myself. People outside ask me where I ttook this backpack. Heyyyy people! May be you read this)))

A great backpack that draws attention and can looks like a new one every day. Pretty comfortable and spacious, my 15 inches laptop fits perfectly. Quality at the top level!

This bag is amazing! I love how I can create my own pixel art and animations to display on the bag. The LEDs are nice, bright, and color accurate. People love it and ask where I got it from. The material quality of bag is very durable and it's water proof.

I dreamed of Pix backpack ever since I saw it on Kickstarter last year! I was interested in using it while I ride my commuter bike. Turned out to be truly amazing. People notice this showstopper from a distance. Even car drivers stop to ask what bag is this and how it works. I feel much safer when it's on.

I'm super picky about bags. And have a variety for a different purpose. This one is my favorite.

My 3rd grader is the only one around with this backpack. He is SO happy

This has a great display and is comfortable. However, the software/firmware is still a difficult to use. You can setup a number of displays to run through but I haven't been able to delete just one. I have to clear all of them and then rebuild everything I want.

Amazing. Showed the ad to my family and friends and they said it's stupid. Now that it arrived, everyone loves it lmao it is bright lights and you can adjust it.

For such price I cannot demand more

This bag is bright, which means it will help stay visible at night, if you're cycling.

The bag is actually good quality (above what I expected)

My nephew loves the gift.

I admit this is the best backpack so far !

It's great for giving out a message and grabbing everyone's attention.

Product is just as described. Been having a lot of fun with this backpack and I get so many likes wherever I go!

Great visual quality of display.

One needs to carry a energy pack with u in order for this to work..

Amazing product I bought this almost a year ago and have worn it nearly every day its spacious inside and very easy to adjust the outside display. However It does NOT come with a power source you should buy it with a portable USB Charger. Also as one may expect. It doesn't handle rough travel well (tossing dropping or throwing the bag) the wires may short out.

My son absolutely loves this bag, he takes it everywhere when he is riding his motorcycle.

it's super cool !! everybody surprised me once i set it. very fun!

This was a gift for my nephew who is 16. He loved it. It is very bright and has a high quality display of LEDs.

This is an awesome backpack, lots of room and great display. It does need a power bank so make sure you have one.

This is amazingly fun and cool! The only reason it lost a star was it is small. BARELY fit me which means it doesn't really fit with stuff in it. The same people have another bag that is a bit larger, but this bag is still amazingly fun

Can't speak on the durability of the bag yet. Only been in use for a week. But seems like a well built bag that will last the school year. Display is very cool and my son loves being able to change the screen.